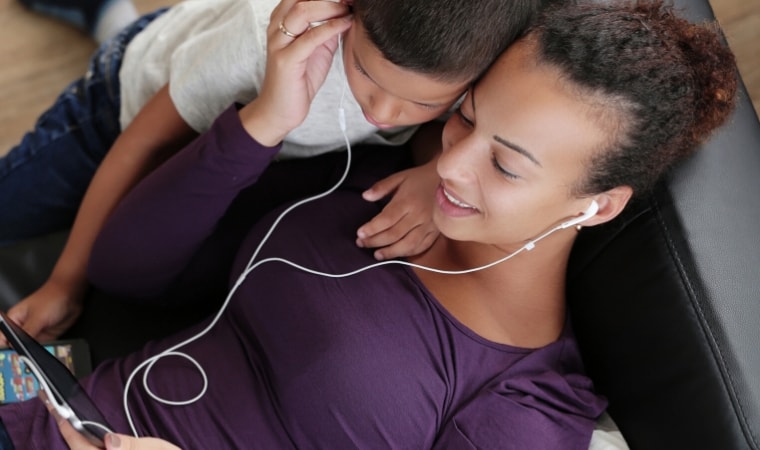 You're not alone if you're unsure about the porn talk. It's a conversation that many parents struggle with.
And it's the sort of conversation that is easy to put into the 'too hard basket'. Which means it never happens.
But in this day and age, it is an essential conversation. And just we talk to our kids about how to stay safe on the road, we need to talk to our kids about how to stay safe online.
I recently had a great chat with Braxton Dutson from The Birds and Bees Podcast about the porn talk. Braxton Dutson is a sex therapist practising at The Healing Group in Salt Lake City Utah.
He primarily works with Adolescents and Adults dealing with pornography issues and sexual dissatisfaction. In his work, Braxton found a pattern with the parents and teens he works with.
He noticed a significant gap in education about healthy sexuality, parents communicating with their children, and couples being able to develop intimacy.
People he worked with would often say "I can't talk to my kids/partner about sex, I'm not sure what to say, and I don't know what to talk about, we've already had 'The Talk' what else is there to say?" Braxton also noticed adults felt: fear, discomfort, ill-prepared, to have conversations about sexuality with their partner and children.
In January 2017 Braxton started Birds and Bees Podcast to provide an accessible, sex-positive, education platform for couples and parents.
He believes reliable information about sex/sexuality/intimacy, and relationships will support healthy conversations between couples, parents, and the future adult generation.
Braxton interviews professionals in their respective field to dispel myths, identify healthy practices and address common issues parent/couples face.
We had a fantastic chat about how to get the conversation started.
You can find the podcast below, as well as the transcription of our chat.
Read the transcription
[00:00:00] Welcome to the Birds and the Bees Podcast. This is Braxton Dutson.
That's the key. People aren't talking about it.
Everybody needs to know that porn is not a documentary. It's not like if we don't talk to kids about sex and sexuality, they're not going to hear about it, they're just not going to hear about it from us.
They have tons of questions, they just don't know how to ask them.
All you have to do it be one chapter ahead. You don't have to know everything. Just one chapter ahead of wherever your child is.
[00:00:31]
Braxton Dutson: Hey everyone, this is Braxton Dutson. Welcome to Birds and Bees Podcast. So glad to be with you hive mates once again. If this is your first time, welcome to the show and if you're a longtime listener, thanks so much for your continued support and being with me once again on this amazing journey of learning how to talk about sexual health and improving your relationships.
This interview is all about pornography and talking to your kids about the dreaded naked people on the computer and sexual activity that they're going to come across at some point in time. You know and some people ask, what do I say, how do I even bring this up with them, is there an age that is too soon?
And if I bring it up with them, are they just going to start looking for it sooner? How do I address questions that kids may have and what happens if they really don't want me to bring it up? These questions and many more are going to come up in this episode with Cath Hakanson.
She is a sex educator from Australia, and has worked in the nursing industry, has done so much work when it comes to sexual health, and actually is the creator of SexEdRescue.com and is a wonderful resource especially if you're thinking of having the conversation about pornography with your kids or even just sexual health. She covers all sorts of topics in her blog and with the books that she reviews.
So, I thought I'd bring her on Birds and Bees Podcast because I've had many parents asking me, hey when do we start this talk, what are we supposed to do? We need an educational podcast about talking about pornography with our kids from little ages all the way through the teens and into adulthood.